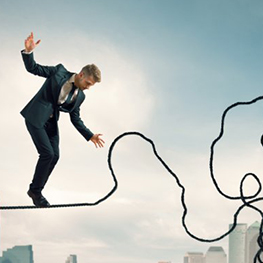 We at Nimeyo have always been fascinated with how employees communicate, and an intriguing company on the forefront of this is Slack.  Slack has succeeded where many others have failed.  Heck, Microsoft almost bought it for $8 billion. Given that, what has it done right that we can all learn from and what challenges does adopting Slack create?
How did it get traction?
On the surface, Slack does not look all that appealing.  It is, after all, just IM plus channels.  But that's the key to its success.  It is not reinventing the wheel nor overwhelming the user.   Slack presents something we all know and makes it really easy to use.  Just a browser and you are ready to go.
Simplicity is the key, and Slack nailed it.  Slack just fits into an employee's natural workflow.
Making communication conversational
One way Slack fits right into the employee's workflow is by facilitating conversation.  Sure, there are documents, e-mails, wikis – but information often flows through conversations.
And what is a conversation?  A series of quick back and forths – something humans are naturally good at.  And Slack allows this in an electronic forum.
When it comes to this type of communication, there is always a tug back and forth between structured, formalized knowledge, and informal conversational knowledge.  And Slack has succeeded by knowing that employees generally prefer the latter.   In other words, people would rather have ease and simplicity– they don't want to be bothered with formatting, manipulating, or overall shaping the data to something that is useful later.
Doesn't make the user change behavior
Slack also allows integration with many third party tools and services:  e-mail, Box, Google Drive, Dropbox, etc.  Employees can still use their favorite means of electronic communication and have that be automatically integrated into Slack.  If an employee still prefers e-mail, she can use e-mail.  If she wants to put information into a document on Dropbox – no need to duplicate that information into Slack. In other words, Slack integrates, but doesn't force change.  After all, everyone is a creature of habit in one way or another.
But is Slack taking away from organization?
But the picture is not all rosy.  Conversations do have weaknesses – they are tough to organize.
With Slack, there's less need for documentation, formalized transfers of information, seminars, etc.  While this saves time, it also means that the expertise will often remain siloed and only be passed on, piece by piece, when needed due to the chatty nature of communication.  But in the age of rapid turnover, what happens if an expert leaves?  Does all their knowledge leave with them?
And is adding yet another channel of communication worth it?
It's important to remember that Slack is another tool, and tool fatigue sets in.   With real estate space on the screen becoming even more precious and people being pulled in many different directions, very few employees clamor for another tool to deal with.
What can be done about these challenges?
While Slack is a great tool, we at Nimeyo understand the challenges that it presents
 Keeps information siloed by detracting from more formalized training methods
 Information is haphazardly placed, with little organization, and plain tough to find
 Information is in yet another place, making discovery much more of a chore
 Yet another tool amongst a myriad of tools that the average employee has to deal with
There are many ways to go mitigate this.  Slack provides APIs to integrate channels into whatever management tool you wish.  They also have Apps which provide integration with 3rd party tools like Box. Unfortunately, this requires a lot of IT resources from employees who would rather be working on core services.
qPod by Nimeyo provides a ready-built solution by processing Slack information into a searchable, interactive, question and answer system.  Information flow can be congregated from various sources like Slack, e-mail, Box, SharePoint, Salesforce, JIRA, Confluence, and much more.  And the knowledge gained can be easily accessed to help find the information you're looking for in bite sized pieces.  Information from Slack is more structured, available in the user's workflow, and can easily be discovered.  In other words, qPod takes Slack to a higher level.
qPod and Slack together!
qPod and Slack work well together with our newly introduced "qPod by Nimeyo" Slack App.
Slack integration within qPod allows users to simply login via Slack – no need to setup a separate login username and password.
And once integrated, channel messages can be imported and accessible throughout qPod.
And with our "qPod by Nimeyo" Slack App, accessing qPod and posting information is a breeze with easy to use Slack Commands.

If you'd like to take a test drive, please head over to our Slack App page and sign up.